There comes a point when fall is transitioning into our lives when we get sick of wearing tees and lightweight fabrics. Sometimes it's nice to feel something a bit heavier on our skin. However, you still have to take the weather into consideration when putting an outfit together, so you don't want to immediately jump into a heavy wool suit. That won't leave you feeling your best. It'll leave you feeling your sweatiest.
That's why you should invest in a great vest or two. A vest is perfect during fall transition because it can be worn with a ton of different things and will keep you warm…but not too warm, as well as looking stylish. Here's some inspiration on how to style a vest both formally and informally, as well as some of our current favorite options out there…
FORMALLY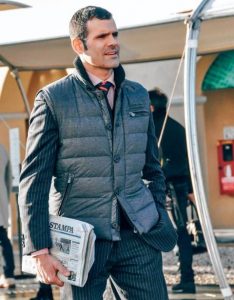 A vest can work really nicely worn over the top of your suit and tie. It adds an additional layer to keep you warm without the bulkiness of a full on overcoat. Also, if there's a bit of rain or something happening, this is an easy way to keep your jacket dry. If you're going to be wearing it this way, considering purchasing a size larger as you'll want a bit of extra room under the vest for the other layers.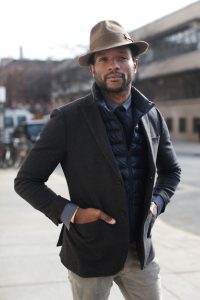 Alternatively, you can also wear the vest over your shirt and tie but under your blazer. This is a great layered look for cooler days that won't be too crazy warm but will definitely keep you more comfortable if you're dealing with winds on the walk into the office. If this is how you choose to style it, you'll want to get a size that will fit very snug to your frame so the jacket can fit over with no extra bulk.
INFORMALLY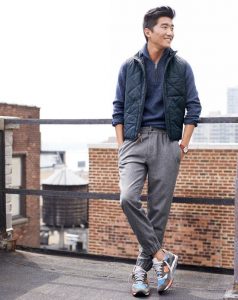 A vest like this is also a great weekend style piece for the days you need an extra layer but don't necessarily want to wear a heavy coat or blazer. Just throw it on over a sweater or long sleeve tee with some denim or knit joggers and you're set for anything a Saturday can throw your way. If you like this style, buy in line with your normal size or even one size smaller. It's great when a vest hugs your frame as opposed to adding extra size to your torso.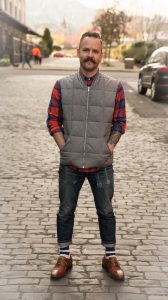 If you're more of an outdoorsman, wearing a vest can mean keeping comfortable into the night or in the wee morning hours of a camping trip. Throw the vest on over a flannel shirt with some denim or wool trousers and boots and you're ready to trek. You'll want to buy it just right in terms of sizing so that it's not too tight over your flannel, but not loose enough that wind will get inside when you have it zipped up.
MY FAVORITES
Here are some options from the web that I love and an idea on how to style each…

header image via gq.com